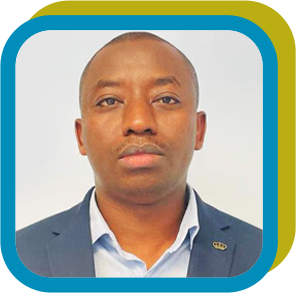 MR. LAZARE NTIRENGANYA
He is the Division Manager for Pharmacovigilance and safety monitoring division at Rwanda Food and Drugs Authority (Rwanda FDA). He is a holder of bachelor's degree in pharmacy from National University of Rwanda and master's degree in Public Health Methodology from Université Libre de Bruxelles/Belgium. Currently, he Heads a division at Rwanda FDA that includes different regulatory functions mainly Pharmacovigilance, clinical trial oversight, Post marketing surveillance, promotion, and advertisement con trol.
He held different position in Health system in Rwanda including Deputy director of District Pharmacy and Chief Pharmacist at Bushenge Provincial Hospital for 5 years where he was focusing and dedicated in clinical Pharmacy practice, Quality Improvement, and supply chain management. He was involved in Pharmacovigilance harmonization process in East African Community. He was involved in establishment of different regulatory function at Rwanda FDA where He coordinated development of different regulations and guidelines especially these governing Pharmacovigilance, conduct of clinical trials, Post marketing surveillance, promotion, and advertisement of regulated products in Rwanda. He was involved in development of Hospital accreditation standards in Rwanda. He has different trainings especially trainings in pharmacovigilance, clinical trials, Translation medicines, Pharmacometrics, Assessment and registration of medical products.