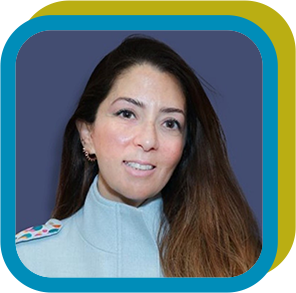 MS. PATRICIA SALAMI, Pharm.D
Patricia is a Pharm D. Grad. from 'Saint Joseph University', Beirut, Lebanon with 20 years of experience in the corporate pharma world (Novartis, Wyeth, Pfizer, Merck), mainly in the regulatory affairs arena.
She is currently heading the regulatory affairs of the healthcare business of Merck in the MEAR region: Middle East, Africa, Turkey, Russia & CIS countries; handling a wide & diverse team of RA professionals who are well engaged and acting as external pioneers in the industry via various trade associations i.e., IFPMA-ARN, IPASA, PhRMA, EFPIA: MERN, Russia-CIS & Turkey.
Since the beginning of her RA Career, Patricia was keen on enabling access of medicines and therapeutic solutions to patients around the world. Hence, she has been a highly active member in the industry via IFPMA/EFPIA/PhRMA associations and have contributed to multiple key events like pre-ICDRA, ICRDA, DIA MERC, Access to Innovation Webinars amongst many others, partnering with multiple Authorities in the MEA region.
Since March 2021, Patricia has been acting as the Chair of the PhRMA MEA RA Group; enabling, with the support of her seasoned esteemed peers, the design and implementation of multiple capabilities' building programs for key Authorities in the MEA region like KSA, Algeria, Egypt & South Africa, which have been translated into enhanced and re-shaped policies & regulations.
Patricia's belief is in passion to make great things happen with her motto being: "Regulate for a brighter future. Partner for earlier & better access".