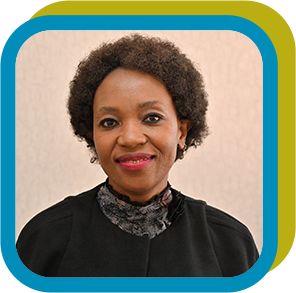 MS. DAPHNEY MOKGADI FAFUDI
She is the Head of Regulatory Compliance at the South African Health Products Regulatory Authority (SAHPRA). She's a pharmacist with over 20 years of experience in various sectors of Pharmacy within South Africa from clinical, drug utilisation review, regulatory and policy making. Qualifications are B. Pharm, MSc in Pharmacy and MBA from the University of the Witwatersrand.
She manages the activities of market surveillance and control function of medicines and medical devices in terms of the Medicines and Related Substances Act, 101 of 1965. This includes control of import activities; market surveillance program for monitoring the quality of medical products throughout the supply chain prevention; detection of and response to substandard and falsified medical products; control of promotional, marketing and advertising activities.
Her duties also include managing activities relating to consumption and reporting consumption (manufacture, import, export, distribution, possession and use) of narcotics and psychotropic substances to UN's International Narcotics Control Board (INCB) in terms of the Conventions requirements. This includes supervision of activities relating to licensing, medical and scientific cannabis and she also represents the organisation in this regard.
Additional roles includes leadership coaching: Wits MBA students and she's an ad hoc external examiner and assessor of postgrad pharmaceutical education qualifications/programmes.