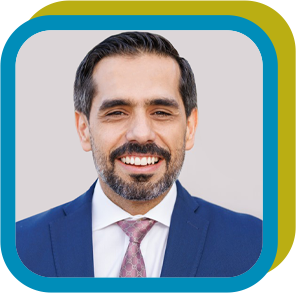 MR. QUTAIBA AL MANASEER
Qutaiba Al Manaseer is the Corporate Affairs Director for the Middle East & Africa (MEA) region at AstraZeneca. With more than 17 years' experience in the biopharmaceutical industry, Qutaiba draws on his extensive knowledge and expertise to lead the Corporate Affairs agenda across the five core units which make up the MEA Area – African, Egypt, Gulf Corporation Council, Near East & Maghreb, and Turkey.
In this role, Qutaiba leads the strategic partnership agenda with government entities and the broader public sector, with a focus on building AstraZeneca's reputation as a healthcare partner of choice – which includes leading communications and media engagement across MEA. Additionally, Qutaiba is responsible for driving critical conversations when it comes to policy shaping in key therapy areas: oncology; cardiovascular, renal & metabolic; respiratory and vaccine & immune therapies.
Qutaiba joined AstraZeneca in 2020 to lead the partnership agenda with governments across MEA, and specifically to roll out the AstraZeneca vaccine and long-acting antibody. Prior to joining AstraZeneca, Qutaiba worked at another multinational pharmaceutical company for 15 years, in a range of functions spanning market access and commercial roles in Jordan, UAE and KSA. Qutaiba has also had the opportunity to work with Amref Health Africa in a volunteering assignment in Kenya, which has helped shape his patient-centric and innovative mindset.
A proactive leader, team builder and tactical planner, Qutaiba is also a strong advocate of gender parity, diversity and inclusion in the workplace.
In addition to his AstraZeneca role, Qutaiba is on the Emirates Health Economics Society board as the Media and Public Relations Chairman. Qutaiba holds a Master's in Health Economics from the Barcelona School of Management, an MBDA from the Swiss Business School, Switzerland and a Bachelor's degree in Pharmacy from the University of Jordan.