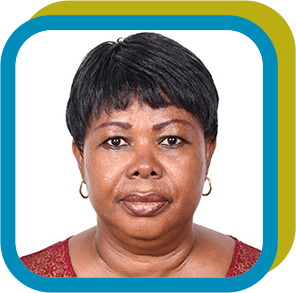 DR. SYBIL NANA AMA OSSEI-AGYEMAN-YEBOAH
A Pharmacist with 33 years' experience and 23 years' experience as Pharmaceutical and Quality Assurance Analyst. She holds MSc. in Pharmaceutical and Quality Control (1999) from KNUST-Ghana and currently a PhD candidate in Public Health Administration and Policy. She is a Fellow of the West Africa Postgraduate College of Pharmacists (2018) as well as a Fellow Ghana Post Graduate College of Pharmacists (2016).
Sybil has been working with WAHO for the past 12 years as the Professional Officer in charge of Pharmaceuticals, and now the Ag. Principal Program Officer and Head of Public Health Division.  She has expertise in policy and strategic plan development, medicines regulatory systems, quality control systems for laboratories, ensuring the accreditations of the national regulatory agencies and laboratories to international standards, building local pharmaceutical manufacturing capacities and establishing good manufacturing practices. She has coordinated the ECOWAS Regional Medicines Regulatory Harmonization process since 2014, trained and developed regional experts in the pharmaceutical sectors to strengthen the human resource for the work force, as well as led various initiatives to improve access to quality, safe and affordable medical products in the ECOWAS region. Has good working relationships with stakeholders and partners. Currently coordinating the ECOWAS COVID-19 vaccines Taskforce to ensure effective access of COVID-19 vaccines and other vaccines production in the region.