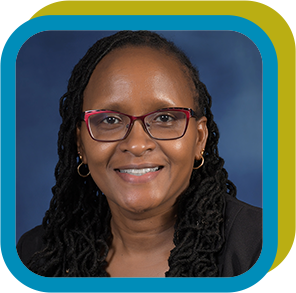 DR. NDINDA KUSU
Dr Ndinda Kusu is the Country Project Director with the USAID Medicines, Technologies, and Pharmaceutical Services (MTaPS) Program and the team lead for Management Sciences for Health in Kenya. She is a clinical pharmacist and an experienced public health, program management and health system strengthening specialist with over 25 years of experience working with public, private, and faith-based health sectors strengthening health and pharmaceutical systems to increase access to and use of medicines and health technologies.
She has done immense work in governance, human and institutional capacity development; development and implementation of policies, guidelines, curricula, and tools; implementing continuous professional development; supporting continuous quality improvement, promoting rational use; curbing antimicrobial resistance and strengthening regulatory systems.
She has a passion for promoting patient safety through pharmaceutical care, infection prevention control (IPC) and pharmacovigilance systems strengthening. Ndinda has spearheaded premier initiatives such as the introduction of the Kenya Pharmacovigilance Electronic Reporting System, curricula reform, and introduction of a postgraduate Masters' course on Pharmacoepidemiology and Pharmacovigilance at the University of Nairobi.
In support of African Medicines Regulatory Harmonization (AMRH) agenda, Ndinda worked with the East African Community (EAC) Secretariat, Intergovernmental Authority on Development (IGAD) and other AMRH partners to support the EAC and IGAD Medicines Regulatory Harmonization Initiative through the development and implementation of harmonized regional guidelines, tools and approaches. She is a member of several health professional associations and committees.
Ndinda holds a Bachelor's degree in Pharmacy and Masters' degrees in Clinical Pharmacy and Public Health